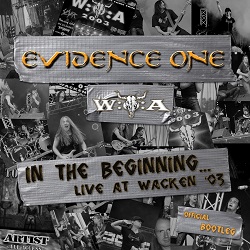 Bandcamp - digital only / 2023


https://carstenlizardschulz.bandcamp.com/album/in-the-beginning-live-at-wacken-03-official-bootleg

Celebrating the 20th anniversary of EVIDENCE ONE's live performance at the legendary Wacken festival, this official bootleg demonstrates the raw power of the band back in the day. Fresh off our first European tour supporting the mighty SAXON and prior to the release of our second and most successful "Tattooed Heart" album, "In The Beginning... Live At Wacken '03" is a testament to how amazing we were live. Energetic, rushed by adrenaline and testosterone, a band giving it all, no matter what!

Keep in mind, this is a bootleg, no overdubs, no additional mixing, just the raw stage power!

Dedicated to our beloved Robby Boebel and METALIUMs Lars Ratz, who recorded the show.


01. Intro
02. Criticize The Truth
03. Perfect Love
04. Like Never Before
05. Tattooed Heart
06. Trust Vs. Heart
07. Frozen In Time
08. Virus In My Veins
09. In The Beginning There Was Fire


Carsten Lizard Schulz: vox
Robby Boebel: guitar
Wolfgang "Schimmi" Schimmer: guitar
Thomas "Hutch" Bauer: bass
Ramy Ali: drums


All songs written by Boebel/Schulz
Produced & Artwork by Carsten Lizard Schulz
Recorded by Lars Ratz
Remastered by Rolf Munkes at Empire Studios