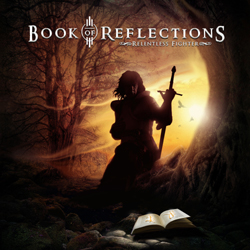 Lion Music / 2012

Over the last couple years I had the fortune to release a few albums on Finnish Lion Music label, but never got to work with label owner and legendary guitarist Lars Eric Mattsson himself. So, when he asked me to do a few tracks for his Neo Classical / Prog Metal project BOOK OF REFLECTIONS, I didn't have to think for a second.
Lars' unique guitar style not only is fast and shredding, the way, he's performing rather unusual scales is breathtaking. As some of you guys out there might have found out already, I'm a huge follower of all that's high speed guitar soloing - and Lars is unbelievable! Working for the man was a huge honour! I ended up singing half the record, which makes me really proud. A simple must for all guitar lovers and shred addicts - just like me.

01. Until the Day.
02. Dance With the Devil.
03. Angel Shed a Tear.
04. Bleeding Dry.
05. Rise Up!
06. Crashing Through.
07. Somewhere Else to Be.
08. Gates to Oblivion.
09. Keep Us Afloat.
10. Without My Angel.

Lars Eric Mattsson – Guitar, Bass and Keyboards
Lizard – Lead and Backing Vocals (1,3,5,7,9)
Markku Kuikka – Lead and Backing Vocals (2,4,6,10)
Christer Jansson – Drums

All songs written by Lars Eric Mattsson (Teosto/NCB)
Produced by Lars Eric Mattsson
All instruments recorded at the New Lion's Cage 2011.
Carsten Schulz's vocals recorded at Seegewerk Studio, Mannheim/Germany by Steffen Seeger.
Markku Kuikka's vocals recorded at Cat Piss Studios, Finland.
Artwork by Carl-Andre Beckston at Monowasp.